About Us
About Schweiss Hydraulic Doors - Our Roots Go Back To 1980
It's been a long and winding road since the inception of Schweiss Doors over 40 years ago. We would have never imagined being a sought-after hydraulic garage door manufacturer when we started! But during that span of over 40 years many doors have opened (literally!) for what was at first a new start-up company.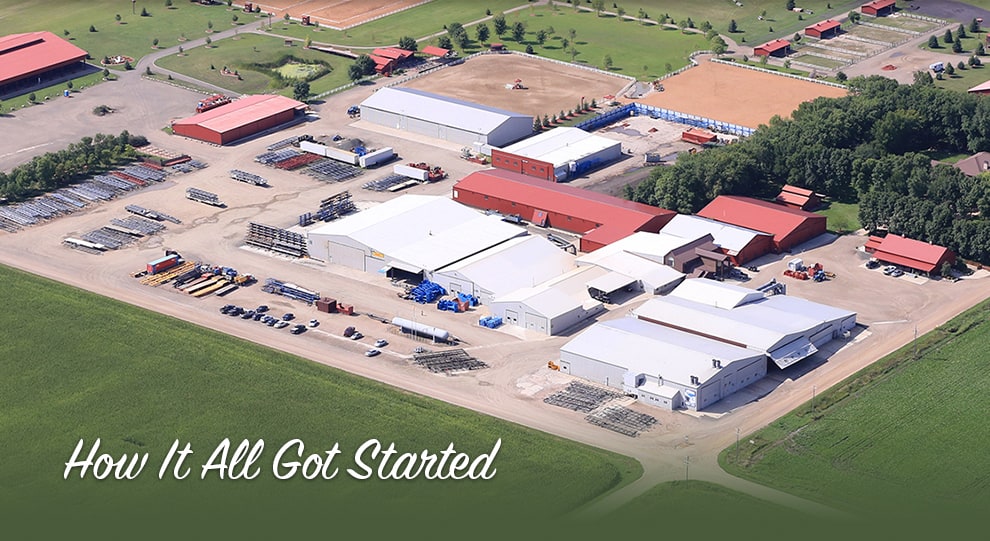 Owner Mike Schweiss relates how he got started in the door business: "It was 1980. I was at a wedding dance. A friend commented, 'Mike, you build lots of different things. Why not a door that folds up?'"
Sadly, that very person died of a heart attack that same evening. But his idea didn't!
At that time, Schweiss and his three employees were manufacturing things like farrowing crates for sows, snowblowers, farm trailers, tile plows - and can you imagine something called the Schweiss Chicken Plucker?
He chuckles, "It was the Chicken Plucker that gave us name recognition, and in fact got us going financially." His first Bi-Fold door measured 12 x 12 ft. and was installed on a Renville County highway shed, 10 miles from Mike's country factory location between Fairfax and Hector, Minnesota. The door is still in operation even though Schweiss admits, "We made it wrong every which way."
For the past 40 years, Schweiss Doors has specialized in innovative door design, engineering, project management and construction of Hydraulic and Bifold Liftstrap Doors ranging in size from 6 ft. wide to 140 ft. wide and as tall as 60 ft. high. We also offer professional installation crews that travel throughout the country.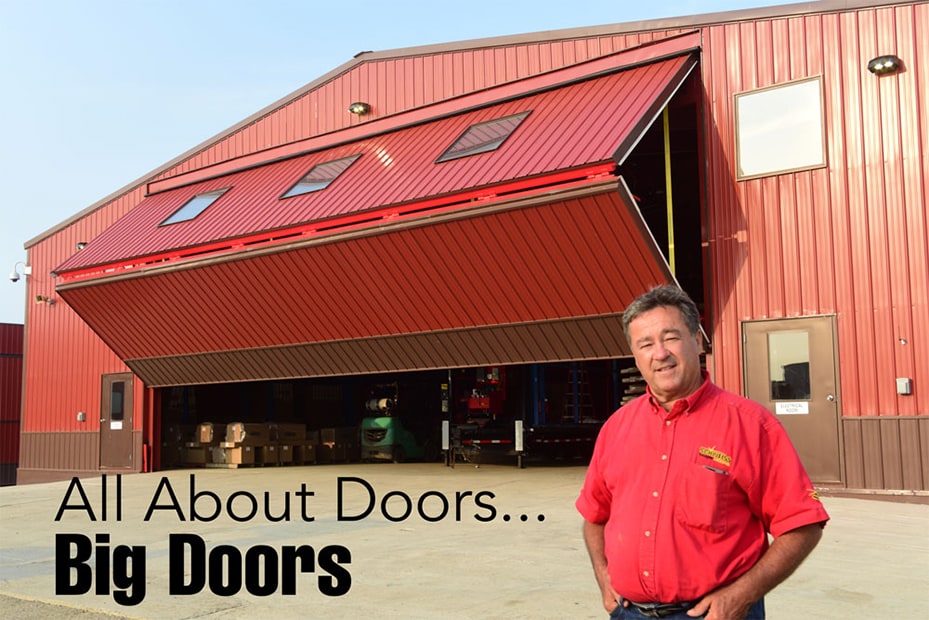 Success comes from more than one good Man at the helm
Schweiss Doors is a family run business - we're aware that a successful company is only as good as the people who work there. Our hydraulic garage door manufacturing was made possible by our skilled employees. Schweiss computer programmers inventory and quality control managers developed a unique computer program that details steel door components, right down to the hinges, nuts, bolts and total hardware of each door. Now today Schweiss Doors manufactures three great styles of doors.
"
"
I think Schweiss Doors are one of the top-quality doors out there. We see a lot of people servicing other manufacturers doors. They are still running old cables instead of straps; makes you wonder
Jim Baysinger
Jack's Overhead Door
Portland, Oregon
Our Hydraulic door Facility
• The large building offers more than 20,000 square feet of assembly space for engineering purposes.
• The electrical room is directly attached to Schweiss's existing warehouse and manufacturing plant
• It effectively centralized all the operations at the company headquarters under one roof for greater efficieny.
• It has energy-saving through in-floor heat and overhead cranes.
• Easy accessibility is built in with a 45 x 16 ft. entrance door, another 18 x 16 ft. door, and a 16 x 16 ft. \ fast-opening hydraulic side door.
It's easy to move hydrauilc cylinders, new style Red Power units, and energy-saving liner/insulation packages easily throughtout the electrical room in our facility.
All this achieves the goal of offering our customers many new benefits while expediting delivery of all components in a timely manner.
Three Signature Door Styles Lead the Way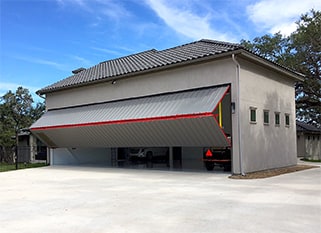 Bifold Doors
Schweiss Doors revolutionized Bifold Doors with the introduction of the famous Lift Straps & Auto-Latches.
• The Schweiss Patented Lift-Strap System utilizes very strong polyester material, which quietly wraps on a drum giving the door faster lift.
• Liftstraps are rust-free, durable and longer lassting than steel cables.
• Strap doors now outsell cable doors hands down.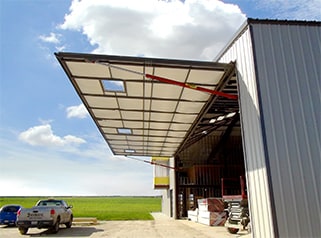 Hydraulic Doors
Schweiss Doors has cornered the hydraulic garage door manufacturing market by reaching above the norm.
• They'r built with bigger cylinders, wrap-around hinges, spherical bearings, and a powerful hydraulic pump system (known as Red Power Hydraulics!).
• The hydraulic doors are simple for any crew to install
• For additional convenience we also offer a build your own door kit so you can save money by using our components and specs to build, weld and install your own door.
• We have also patented a unique easy to assemble splice connection for very big hydraulic doors so they can be transported on semi-flat beds or inside containers.
Designer Doors
Over the years of hydraulic garage door manufacturing, Schweiss has made hydraulic doors of all sizes and shapes - unique requests kept coming in with different projects, and each time we fit them with the perfect hydraulic door solution.
Clients come to Schweiss with ideas in mind, and we help them create a custom hydraulic door specifically fit for their application. We meet specific alterations and client needs for any door - making customer experience our top priority.
Bingo, designer doors and new projects in the pipeline - that's when the fun began to spread. We hit a few home runs and saw the need and requests for unique custom-made doors. That's how our "Designer Doors" got their name.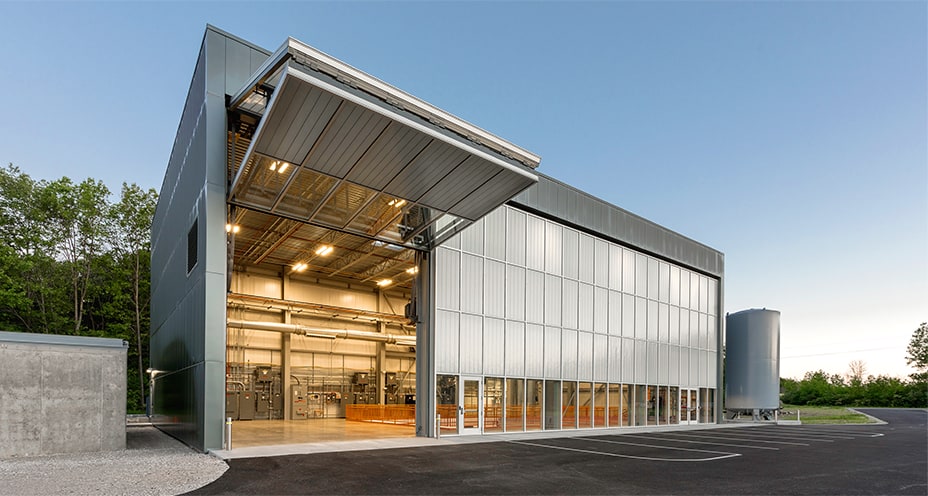 What Our Customers Are Saying...
"My airport operation has 24 hangars, each hangar is equipped with a Schweiss Hydraulic Door. Why Schweiss? Because I checked lots of airports, lots of hangars, and lots of door systems."
"Pilots, airport operators, EVEN CONTRACTORS, whomever I talked to pretty much simply said, 'Go Schweiss.' They Give You More!"
Whomever I talked to pretty much simply said, "go Schweiss!"
"Trust me. That's what buying 24 hydraulic doors is all about. Full value, plus great service."
Want to hear? See what all of our customers have to say!
What makes Schweiss the top choice for any hydraulic garage door need?
The major difference is in the powerful hydraulic door system craftsmanship. Our hydraulic doors are always custom-build and altered to our customers ideal needs
Get extra headroom, additional space and a long-lasting hydraulic door to secure your structure - whatever that may be Schweiss has you covered.
Contact us today to see how we can meet your garage door needs with our Hydraulic doors.
With Schweiss, It's all there