BIG HYDRAULIC DOORS THAT ARE SPECIALLY BUILT "SCHWEISS TOUGH"
Schweiss Doors of Fairfax, Minnesota has been setting records for years with its super-large series of quality manufactured Red Power Hydraulic door orders. A majority of these hydraulic doors are being installed at airports, military base locations agricultural, commercial and industrial buildings worldwide.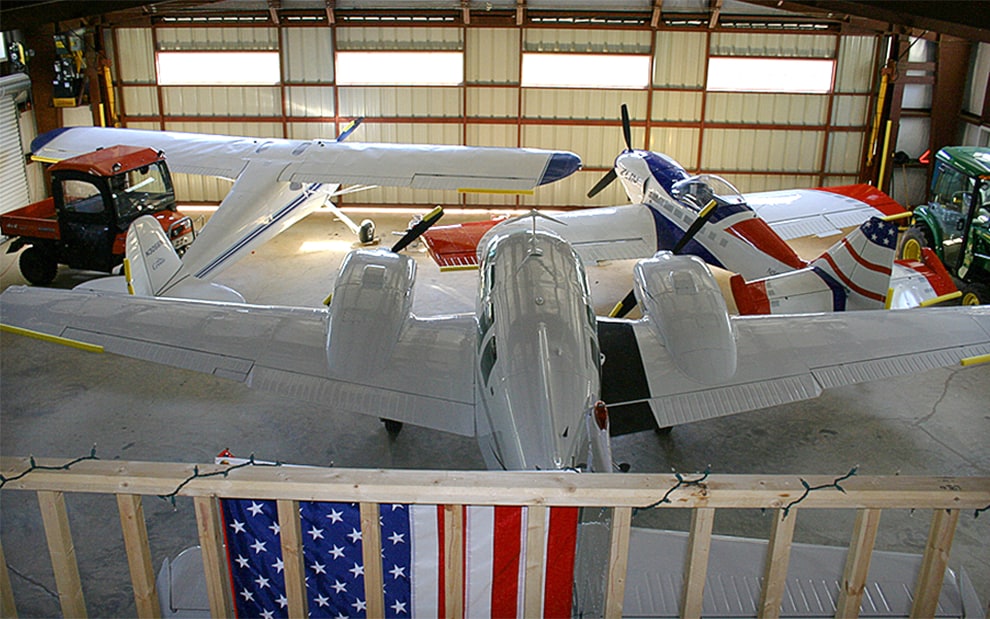 We not only can build them BIG, up to 130 feet wide x 36 ft. tall and 8 tons big like we did for a New Jersey aviation company, but we build them any size and all are Schweiss Tough! Here are a few other examples of specially ordered Schweiss Tough, custom made, big hydraulic doors we've done:
Revier Feed Storage Bunker Hydraulic Doors
Tom Revier, owner of Revier Cattle Company in Olivia, MN needed a feed storage building for his 16,000 head beef operation. Filling a 220 ft. x 120 ft. steel and concrete bunker building called for tough Schweiss hydraulic doors to contain the weight of the grain pushing against it. Schweiss Doors built two 15' 6" x 15' custom made hydraulic doors for it positioned at each end. These 2,500 lb. doors were constructed with 3/4" steel welded into the framework of 8" beams and used oversized pistons to lift them. To make certain there would be zero leakage of grain, four 6" long steel pegs drop into the concrete footing and two steel pegs were place on each edge to lock into the steel I-beam framework of each door. Each Schweiss hydraulic door has a 54"x44" tall steel slider which lets the grain pour out for augering into feed trucks.
"
"
What I like best about the door is the automatic latching levers. They are very stout when you close the door. The construction of the Schweiss door is more durable than I expected. It appears the door was made to be of a high strength lifting ability. The door doesn't wobble, there's no movement on it, it comes up easy and it is firm. Even if it's windy out there's never any motion on the door; none whatsoever. If there is a light rain outside, when you lift open the bifold door you have a patio with a roof. We take the tables out there and enjoy watching planes on the field without getting wet.
Ron Sterba
Salem, Oregon
Farm/Trucking operation high
speed hydraulic doors
Most customers don't spend money on a hydraulic door just because it opens and closes fast. But that was a deciding factor for a Renville County, MN farm/truck operation that runs a fleet of over-the-road semi rigs. Terry Albright appreciated the 37-second opening speed on his big 3,800 lb. insulated Schweiss 42'x17' hydraulic door because when he's running rigs out of a heated shop in sub-zero windy Minnesota winter conditions he wants to keep his heating bills down and rigs on the road. Instead of fitting the hydraulic door with a standard 2 h.p. motor, Schweiss placed a wall-mounted pump with a 5 h.p. electric motor to easily lift the hydraulic door. The hydraulic door is also fitted with three high-intensity lighting fixtures fastened midway up the door for evening work convenience.
Classic Florida hangar home
has lifting wall/porch
It's a Schweiss "show piece" which has literally received television coverage on numerous occasions. What may be the coolest ever hangar home has a 45'x15' Schweiss hydraulic door sporting a wrap-around porch with decorator railing, table and chairs, a walk-through door with a stylish window and veranda roof. It's nearly impossible to tell it is a jazzed-up California hangar home. "If you have a dream about a special building, run it by the Schweiss team. They do great stuff with doors and they're easy to work with," commented owner Dan Shaw.
These are just some examples of skilled Schweiss Hydraulic Door engineering. These stories and more can be viewed full length on the Schweiss Doors "Must See Photos" website at www.bifold.com