Under Armour
- Under Armour Designer Door By Schweiss Speaks for itself
Schweiss Designer Doors don't get much better than this. Under Armour Corporation ordered this very attractive and unique metal perforated hydraulic one-piece canopy door as a showpiece for their store and office building in Baltimore, Maryland.
The 28' 10" wide x 12' - 140 mph wind rated billboard style Under Armour hydraulic door features two distinctly lighted Under Armour billboard-style logos which can be seen for miles around especially during the evening hours. Two powerful Schweiss hydraulic cylinders open the door whisper-quiet providing corporate charm and weathertight security for the store when closed.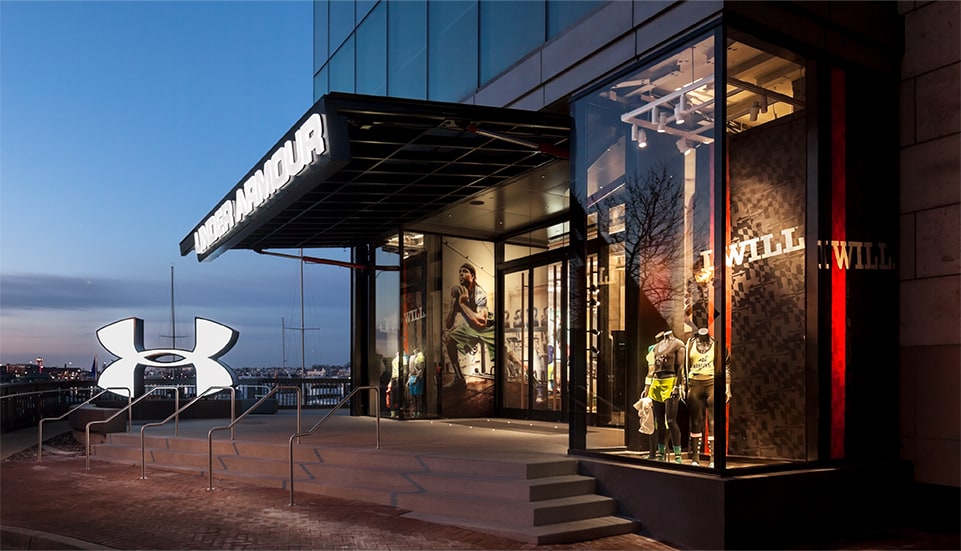 "
"
Schweiss doors are a reliable and sturdy product and we like that they provide the ability to apply different finishes to customize them further. The white, lacey metal screen is reminiscent of ghosted brick and is supported by large wood columns that reveal themselves along the exterior faÇade. In addition to providing overhead weather protection during the day, lighting will be provided at night to create a lantern or beacon on the corner, allowing the screen to glow and cast a shadow onto the street.
Noelle Gallcia
Seattle, Washington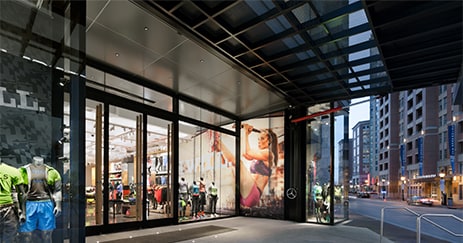 Schweiss Doors designer door line has been going full-blast for a number of years. These designer doors have appeared on an exclusive hotel in China to places like the Red Bull Headquarters in California; Sway Thai Restaurant in Texas; Old Navy mall entrance in Texas; Guthrie Theatre in Minnesota; AT&T San Francisco Giants Stadium; Cycle City in Hawaii to beautiful carriage house helicopter hangar doors in North Carolina and many colleges, municipal buildings, homes and schools throughout the United States and abroad.
Architects, engineers and building contractors will testify that your ideas can go anywhere from mild to wild, from concept to reality. You think it - Schweiss will custom-build it!
For more information on the hydraulic and bifold liftstrap designer door line, visit Schweiss Doors at www.schweissdoors.com. The "Must See Photos" website section will give you dozens of ideas on how other Schweiss customers have relied on Schweiss Doors to customize their own door needs and unique ideas. Schweiss Doors can be reached by calling 800-746-8273.