Architects
Architects, Contractors & Engineers
The Schweiss Promise
Schweiss Doors partners with building suppliers, contractors, architects, and more to ensure that you receive a hydraulic door that perfectly fits your building or open space. The Schweiss Doors team is available to assist you with all things regarding your hydraulic door. Making sure that your hydraulic door fits and operates properly is our top priority. Browse our listings of door weights, loadings, hinge locations, and other overhead hydraulic door specifications (specs) to see what we have available.
It is important that you talk with your contractor and the building manufacturer to make sure that your building's structural design can handle a hydraulic door. A hydraulic door exerts a large amount of weight on the door header, endwall, and overall structure of the building. Show your contractor and building owner the overhead hydraulic door specifications to ensure that your building can handle it. Hydraulic doors tend to pull away from the building at the hinge line when they are in a full open position. Horizontal loads can exert considerable pressure on the building structure when the hydraulic door is in the open position, which can wear on the hydraulic door hinge and the building. In order for the hydraulic door to be properly supported, the building header design must meet the standard criteria for both deflection and strength, both vertically and horizontally. This is the only way to ensure that the hydraulic door can be supported in all positions.
VIEW OUR OVERHEAD HYDRAULIC DOOR SPEC SHEETS
Schweiss Hydraulic Doors provides our A-1, A-2, A-3, and A-4 spec sheets so that you can see the loads that would be applied to your building and door. These spec sheets include the information that you will need to make accurate measurements so you can rest assured knowing that your building can handle the load of a hydraulic door. Call (507) 426-8273 if you need any assistance or have any additional questions about hydraulic doors.
Architects, Contractors & Engineers
Upgrade Features
Schweiss strongly recommends that upgrade equipment be used on every hydraulic door
WARNING: Without the proper upgrade equipment, the hydraulic door could cause property damage, personal injury or death.
THE SCHWEISS HANDBOOK HAS INFORMATION ON:
The many different ways to attach a hydraulic door to your new or existing building structure (wood, steel, quonset, sidewalls, etc.) Detailed illustrations to help you further understand how to prepare your building for a hydraulic door, without changing the design of your steel or wood building. Many different applications of an optional Freestanding Header. The Schweiss Handbook should be read by anyone involved in the design, specifications, selection or purchase of an industrial hydraulic door operator or automated hydraulic door system.
A. _______

Clear opening between building side columns - Finished opening.
A1. ______

Distance from the front plane of building structure to front of Hydraulic Legs "Set Back"
B. _______

Width Placement of the building side columns to accept a Hydraulic Door.
Clear Opening between the building side columns.
C. _______

Total distance to stay back with the building sheeting on the side columns
D. _______

Customer's Finished Clear Opening Height - Door in the Open Position.
E. _______

Distance from the finished floor to the bottom of the Building Header / Stub Column.
Do not have stub columns / continuous header located any lower than this measurement.
F. _______

Distance from finished floor to the very top of header angles.
G. _______

Distance from finished floor to the building sheeting line above the door.
Hold the sheeting to this elevation from the finished floor.
H. _______

Distance from the finished floor to the center of header angle bolt holes.
Customers choice of truss: _____ Internal _____ External
Hydraulic Door Measurements - Side View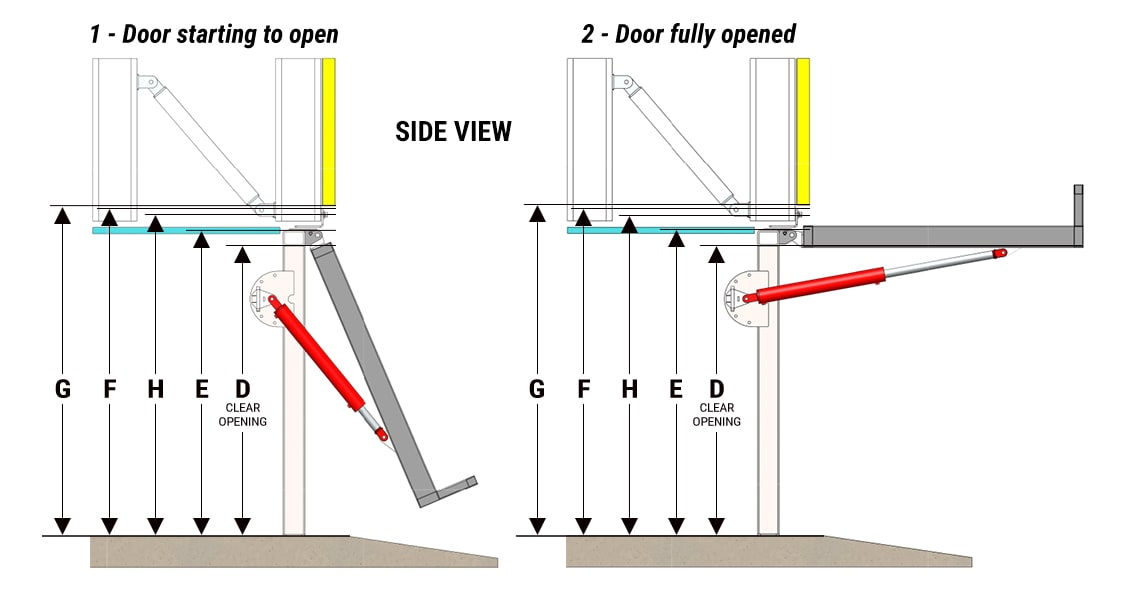 Placement of Hydraulic Door into the Steel Building

Architects, Contractors & Engineers - Written Specs
1. QUANTITY
1.1 Hydraulic Doors for this project will consist of (___) hydraulic doors
2. SIZE OF HYDRAULIC DOOR – Clear Open Width & Height
2.1 Hydraulic Hanger door with door in up position, shall have a minimum clear opening width of (___'___")
as shown in the plans and a minimum clear height of (___'___") above finished floor elevation.
3. PLACEMENT of the Hydraulic Door onto the building – Choose One
3.1 Hydraulic Door shall be mounted on the exterior walls of building.
3.2 Hydraulic Door shall be mounted flush with exterior walls of building.
4. GENERAL / CONTRACTORS REQUIREMENTS: – DESIGN CRITERIA
4.1 The hydraulic hangar doors shall be designed to the same loading requirements for live, dead and wind
loads as the hangar building.
4.2 The hydraulic doors shall be engineered to resist all anticipated loads without sagging, bowing or
conflicting with its smooth and efficient operation.
4.3 Design for wind load as required by UBC, 1996 BOCA building code. (Example) Wind load (___) mph.
Exposure (___)
4.4 The design shall be furnished, approved and sealed by a professional engineer registered in the state
where the project is located
4.5 The building header shall be designed to accommodate horizontal and vertical building deflections to
support the hydraulic door in all positions (with the proper lateral bracing).
4.6 The building's hydraulic door columns shall be framed of the proper design and size to reinforce the
opening (with lateral bracing) and to carry all loads and vibrations imposed thereon.
4.7 The hydraulic door should have solid footing with sill directly underneath the hydraulic doorframe and
extending outward from the door to provide a base for the hydraulic door's weather seal. This also prevents
flow of water into, or under, the door installation.
4.8 The finished floor of the building should be designed to prevent flow of water under the hydraulic door
installation. Sills shall have a slight slope outward of the hydraulic door to prevent water flow under the
hydraulic door installation.
THESE SPECIFICATIONS CAN BE CUSTOMIZED FOR YOUR DOOR!
PLEASE CALL US AT (507) 426-8273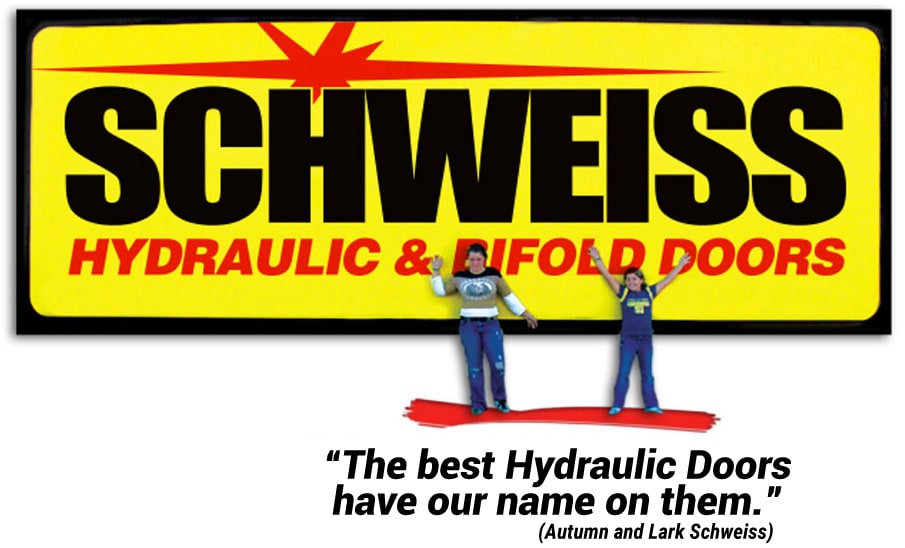 We do not underestimate the importance of quality material when building our doors. We use heavy square tubing for the hydraulic door frames to create a sturdy base for the rest of the hydraulic door. The bottom of the hydraulic door is built using a truss that gives the structure of your hydraulic door extra strength. Our hydraulic door design incorporates metal strategically to a make our hydraulic doors stronger, cleaner, and most importantly, safer. We are so certain in the strength and quality of our hydraulic doors that we offer the best warranty in the business. Browse our four different models of hydraulic doors and find an affordable hydraulic door for your building today!
Schweiss Doors reserves the right to change specifications without any requirement to change or modify past or existing doors. Copyrighted © 2020 Schweiss Doors. All rights reserved. No part of this publication may be reproduced in any way without permission.